The Geothermal Manufacturing Prize Make! Demo Day Finalist Announcement is Thursday, Jan. 13, and you're invited to join! At this virtual event, up to five teams will be selected to move on as finalists in the Geo! Contest, splitting $1 million in prizes.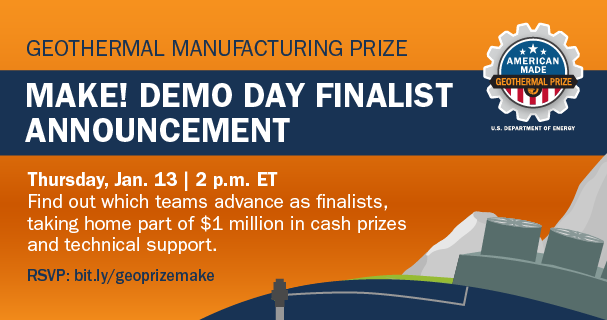 Since learning of their status as Set! Contest semifinalists in March 2021, nine teams have been working diligently, preparing their technologies for the next milestone: creating a prototype to showcase ahead of Make! Demo Day. For the past several months, these teams have been fabricating prototypes of their additive manufacturing designs, identifying Geo! partner(s), and using continual customer and stakeholder feedback to substantially advance their prototypes.
Now, it's time to present their technologies to a panel of expert reviewers and find out who advances to the Geo! Contest.
If you've been following the progress of the Geothermal Manufacturing Prize, you won't want to miss this exciting milestone! Join the live Make! Demo Day Finalist Announcement on Thursday, Jan. 13, at 2 p.m. ET. Register here.