Join the EnergyTech UP National Pitch Finals Thursday, March 24, from 11 a.m.—4:30 p.m. ET to see 17 student teams present their pitches to peers, energy stakeholders, and a panel of industry judges. With a total of $230,000 in cash prizes still on the line, students are preparing to wow the judges and bring home glory.
Over the past few weeks, the students have been working with industry mentors to refine their business plans and perfect their pitches in preparation for the National Pitch Finals. On Thursday, we get to see their final presentations as they make a case for marketing a high-potential energy technology.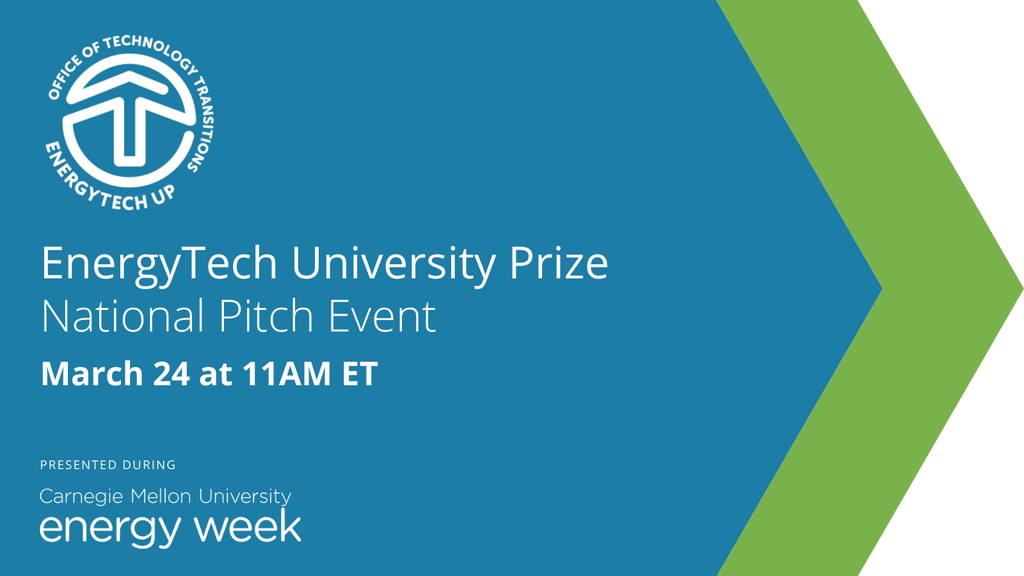 Then, tune into the CMU Energy Week Virtual Networking Mixer Friday, March 25, to hear the EnergyTech UP winners announcement. The event will kick off at 3:30 p.m. ET with a networking session for students and industry professionals. This event is open to everyone, including investors, academia, government, and more.
Up to three National Winners will be selected, earning between $5,000-$50,000 in cash prizes. Plus, up to six Technology Bonus Prize Winners will win $25,000 for their pitches focused on a particular energy technology, as selected by DOE's program offices.
If you've been following the EnergyTech UP competition or want to hear what these creative and business savvy students have been working on, don't miss these events! Join on Thursday to watch the student pitches at the National Pitch Finals and then come back Friday for the Virtual Networking Mixer to hear the winner announcement and connect with students and energy industry professionals!