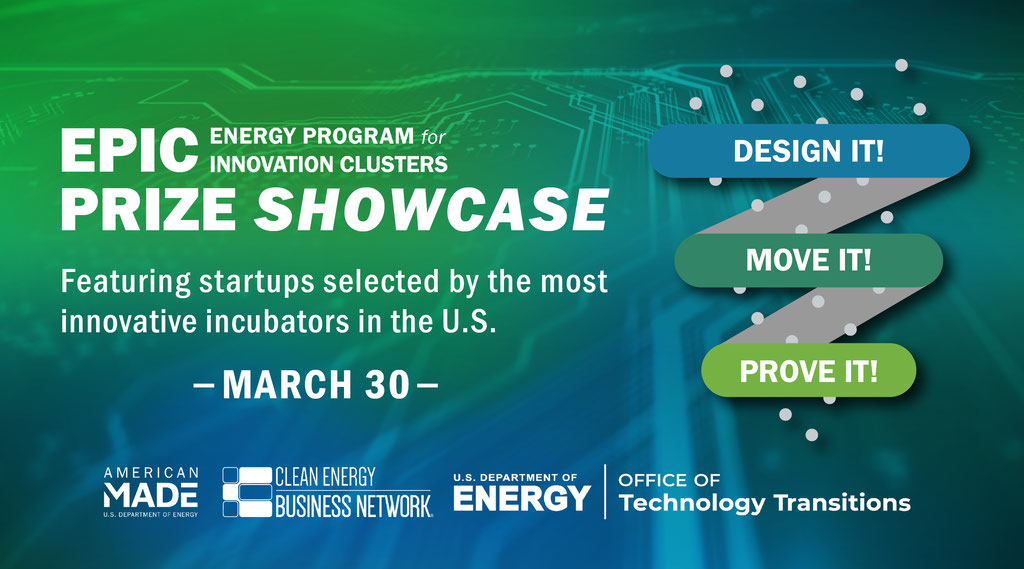 Get a front seat to innovation at the most epic cleantech pitch competition of the year! On March 30, 2023, the EPIC Showcase will feature 24 leading cleantech start-ups, hand-selected by the nation's most innovative incubators.
Through the Energy Program for Innovation Clusters (EPIC) Prize, the DOE Office of Technology Transitions, in conjunction with the National Renewable Energy Laboratory (NREL), has recognized 24 incubators across the country playing a key role in supporting regional energy innovation clusters. OTT supports technology commercialization and drives the private sector uptake of clean energy technologies to advance the economic, energy, and national security interests of the nation.
These award-winning incubators are nominating startups from their networks to compete for over $150,000 in prizes at a virtual pitch competition on March 30, 2023, from 11 a.m. – 5 p.m. ET. Come and go as you can.
Register for the event here: https://secure.everyaction.com/HGpag1CZCk61As5xVjSESw2