Congratulations to the 24 teams advancing to Phase 2 as EPIC Prize Round 2 semifinalists. See below for the full list of semifinalist teams representing a wide range of technology focus areas including the built environment, storage, food security, manufacturing, solar, workforce training, the blue economy, carbon reduction, and more.
You can find more information about the prize, semifinalist teams, and the U.S. Department of Energy Office of Technology Transitions on energy.gov.
All Phase 1 participants will receive reviewers' comments within the next few weeks. For those teams selected to move on to Phase 2, check your email for your next steps and please register for the Phase 2 Informational Webinar.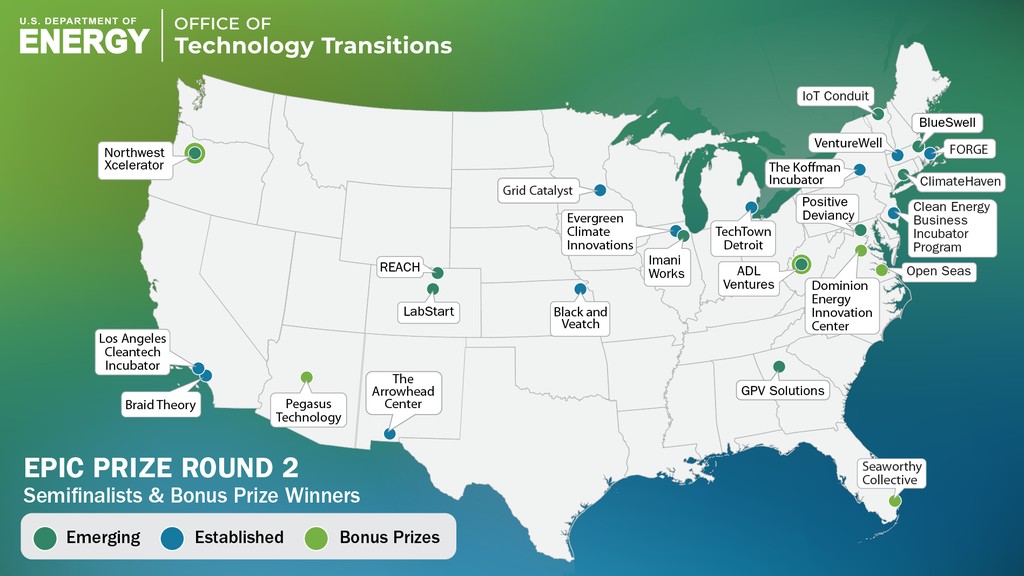 EPIC Prize Round 2 Semifinalists
New & Emerging
GPV Solutions (Austell, Ga.)
BlueSwell (Cambridge, Mass.)
ClimateHaven (New Haven, Conn.)
IoT Conduit (Burlington, Vt.)
Imani Works (Chicago, Ill.)
LabStart (Golden, Colo.)
ADL Ventures (Charleston, W.Va.)
Positive Deviancy (Sterling, Va.)
REACH (Fort Collins, Colo.)
Northwest Xcelerator (Portland, Ore.)
Established
Black and Veatch (Overland Park, Kan.)
Clean Energy Business Incubator Program (Stony Brook, N.Y.)
Braid Theory (San Pedro, Calif.)
VentureWell/TechTown Detroit (Hadley, Mass. and Detroit, Mich.)
FORGE (Somerville, Mass.)
The Koffman Incubator (Binghamton, N.Y.)
Grid Catalyst (Minneapolis, Minn.)
The Arrowhead Center (La Cruces, N.M.)
Evergreen Climate Innovations (Chicago, Ill.).
Los Angeles Cleantech Incubator (Los Angeles, Calif.)
Bonus Prize Winners