The U.S. Department of Energy Building Technologies Office announced six teams as finalists for the Equitable and Affordable Solutions to Electrification (EAS-E) Home Electrification Prize. The EAS-E Prize provides $2.4 million in cash prizes and technical support for innovative solutions that advance electrification retrofits of residential homes across all building types and geographies.
The finalists, representing five states, will each receive $5,000 in cash prizes and receive a $75,000 voucher to work with U.S. Department of Energy national laboratories and/or "Connectors" from the American-Made Network that qualify as Voucher Service Providers.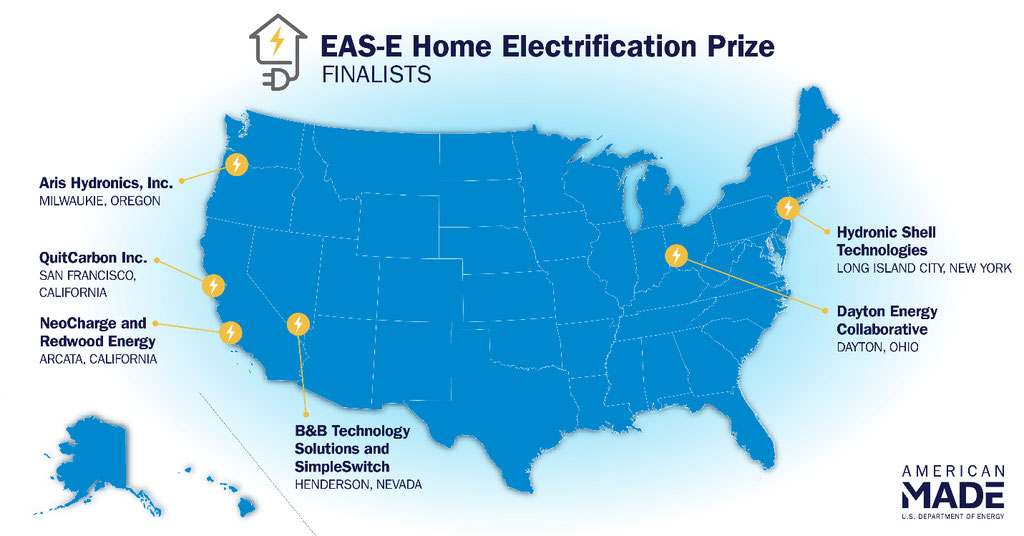 Congratulations to our finalist teams:
Aris Hydronics, Milwaukie, Oregon
B&B Technology Solutions and SimpleSwitch, Henderson, Nevada
Dayton Energy Collaborative, Dayton, Ohio
Hydronic Shell Technologies, Long Island City, New York
NeoCharge and Redwood Energy, Arcata, California
QuitCarbon Inc., San Francisco, California
The finalist teams will move on to Phase 2 to compete for up to three prizes, with a top prize of $1 million. Grand prize winners are expected to be announced in June of 2024.
The EAS-E Prize aims to support a suite of design solutions, tools, and/or technology innovations that make electrification more affordable and accessible in existing U.S. homes. The prize aims to create more opportunities and successes for electrification of the U.S. housing stock with a focus on equitable solutions for all homeowners—not only through affordability, but also by enabling solutions specific to dwellings more common in low-income and under-resourced communities.
Read more about the finalists and learn about the EAS-E Prize competition on energy.gov.