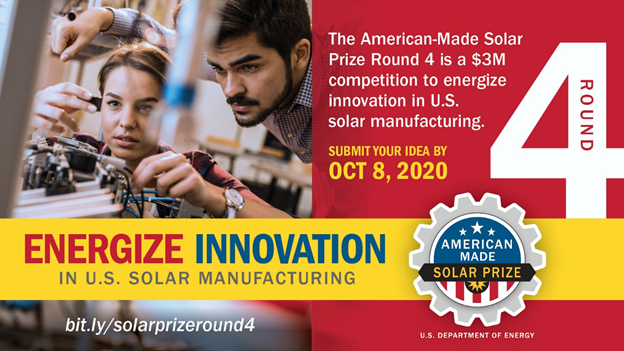 Have you considered competing in the Solar Prize Round 4? Do you have questions about what technologies can be submitted? Are you curious if you qualify to compete?
All these questions and more will be answered on Sept. 1, 2020, at 1 p.m. ET during the Solar Prize Round 4 Kick-off Webinar.
Join the Solar Prize administrators for a presentation about competing in Round 4. You'll have the chance to ask questions and learn more about how this prize can catapult your innovation.
Competitors have access to a diverse and powerful support network that leverages the expertise of national laboratories, energy incubators, and other resources across the United States. The American-Made Network helps competitors solve pressing technology challenges, forge connections, and advance potentially game-changing ideas and innovations.
Interested in competing? Register now for the Solar Prize Round 4 Kick-off Webinar and tune in on Sept. 1!