The PLASTIKA REPARABILIS CHALLENGE is a global crowdsourcing collaboration open to anyone in the world; inventors, innovators, engineers, enthusiasts, designers and dreamers regardless of age, nationality, gender identity, cultural identity, or political viewpoint.
This Challenge has Two Stages.
Stage 1 consists of three Tracks. Stage 2 consists of three Rounds.
The Overview, Timeline and Guidelines presented are for Stage 1 with references to Stage 2.
The Plastika Reparabilis Challenge is a Cash prize competition. Winners of Stage 1 will be selected based on how promising their ideas are, and how willing and able they are to work with other Innovators. Winners will receive larger amounts of cash prizes as they move from Stage 1 to Stage 2 and from Round one to the third and final Round.
We are committed to implementing solutions from back-of-the-napkin ideas to fully-fledged business models that emerge from The Plastika Reparabilis Challenge.
No purchase or payment of any kind is necessary to enter or win the Plastika Reparabilis collaborative competition.
If you are considered a minor in your country or in the Province of BC, Canada, you will need your parent or legal guardian to register on the HeroX platform and submit your idea or solution for you.
You will be able to select your preferred structure for intellectual property rights on the submission form.
OVERVIEW
The Problem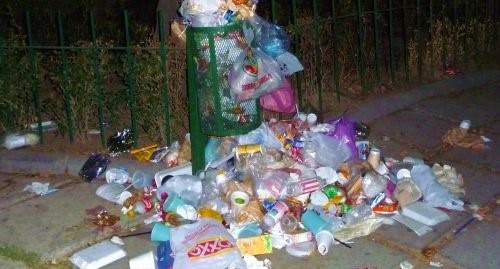 Why Does this Problem Exist?
Today's recycling is fragmented, confusing and driven by waste management and the plastics industries.
Plastic designers, manufacturers and recyclers work in isolation from each other.
Solution providers, NGOs and governments deliver only National solutions that do not address global needs.
There is NO harmonized and standardized system for the collection and processing of waste plastic.
The plastics industry acknowledge the problem of plastic pollution and promote reuse and recycling while fighting local regulation of plastic products.
We ALL need to tackle the problem, TOGETHER NOW.
ONE SOLUTION FOR THE TOOLBOX OF SOLUTIONS :
The PLASTIKA REPARABILIS CHALLENGE is a race to build functioning and valuable ecosystems for plastic waste elimination and plastic re-utilization and to replicate those ecosystems all over the world.
Pre-cycling and preventing plastic waste before it happens.
Accelerating a synergetic and symbiotic flow of plastic resource recovery.
Delivering plastic-free solutions and alternatives.
Providing recycling receptacles wherever garbage receptacles exist for ALL types of plastic in ONE bin everywhere on the PLANET.
Extracting the most value from all types of recyclable, non-recyclable, biodegradable and compostable plastics.
To register for the challenge, click the "ACCEPT CHALLENGE" button above.

The Challenge Breakthrough
The PLASTIKA REPARABILIS CHALLENGE' breakthrough is to boost the recovery of plastic waste, increase the value of plastic scrap, and optimize resource re-utilization in the global supply chain.
What are the positive transformations that come from this Challenge?
Local Solutions Globally. The connection of local solutions on a global scale to create -PPaaS- Plastic Packaging as a Service.
"Glocal" solutions for the entire plastic supply chain to work collectively and collaboratively to turn-off the tap on plastic pollution of earth and ocean.
Why is now the exact right time for this problem to be solved?
Plastic recycling programs are limited to each municipality
Municipal recycling programs are slow and lag behind of what is recyclable and what is not recyclable resulting in well-meaning, but confused and partially motivated end-users
The present system for collection and sorting of waste plastics is intricate and fragmented and it is the main driver for littering and for lack of recycling
Worldwide bans on single-use plastics
the Chinese National Sword Program banning plastic scrap imports
the growing market penetration of bio-based and nature compatible plastics
Fossil Fuel Companies' colossal $180 Billion investment in plastic factories
the UK' standardization of its recycling policy and the banning of single-use disposable plastics
France's pledge to recycle 100 percent of plastics, and
Administrations the world over pushing ahead with separate approaches to recycling
All factors above prove the timeliness for the PLASTIKA REPARABILIS CHALLENGE.
What You Can Do To Cause A Breakthrough
Click ACCEPT CHALLENGE above to sign up for the challenge
Read the Challenge Guidelines to learn about the requirements and rules
Share this challenge on social media using the icons above. Show your friends, your family, or anyone you know who has a passion for discovery.
Join or start a conversation in our Forum, ask questions and connect with other participants.
The Challenge Forum is your space to share thoughts and ideas and join or create teams to develop and implement an integrated flow to eliminate waste before it happens simultaneously with plastic (bar)/coding/tagging, tracking, collection, sorting, separation and transfer to firstly local, secondly regional, thirdly national, and lastly international markets to be reused, restored, repaired, upcycled or recycled leading to an optimal circular life-cycle.
You will be able to select your preferred intellectual property rights structure on the submission form. Choose only ONE structure.
Click "Accept" to continue for the Legal Agreement section instead.