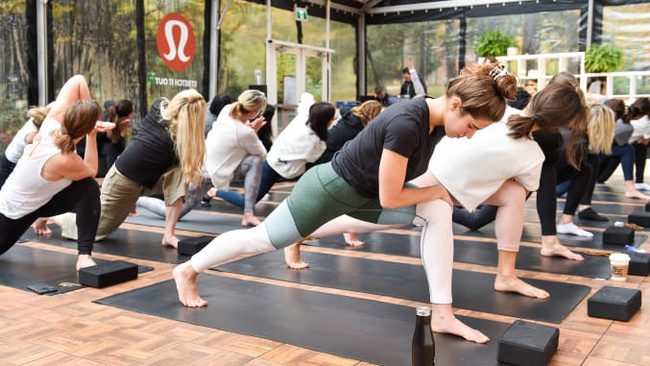 short description
YellowYoga hosts in-store yoga classes for customers to meet new people, exercise with others, and earn points for lululemon merchandise!
3. Opportunity: Which pillar of well-being, and which aspect of that particular pillar, are being addressed by the idea? In what way does it influence a pillar? What type of individual and community would benefit from the idea?
The community would greatly benefit from our chosen design and business model. Along with selling yoga wear, the store will also be a hub for healthy living, happy spirits and will be a place to share ideas and thoughts about personal wellness. With daily yoga/exercise classes, the community would have all the more reasons to visit the store. Having social events, incentivized personal health and a general relationship with the community makes people want to visit for all of the right reasons.
4. Innovation: Why is your idea unique, novel, and/or impactful? What will the future look like if we're successful in bringing your idea to life? How does the proposed solution differ from existing solutions addressing human well-being?
YellowYoga will help bring more customers to lululemon by boosting their desire to be activite and purchase more lululemon merchandise. Our idea is unique because lululemon will be the first world recognized name brand to implement their own in-store yoga classes. The lululemon business will benefit from YellowYoga as a whole because it will introduce customers to a healthy way of life. Customers will gain points with monetary value that will offer them discounts on lululemon merchandise.
5. Action Plan: Please justify and briefly describe the major steps needed to make this idea a reality. Does the technology and understanding exist now? Is it likely to exist in the next 3-5 years?
All of the technology currently exists, it would just have to be set in place. The lululemon brand was built on the ideas of people who love yoga, and our store design would allow these people to have a place to learn to grow in their own personal health and spirit. Giving the interior of the store a facelift as well as implementing technology and physical education (yoga classes) is entirely possible in the next 3-5 years.