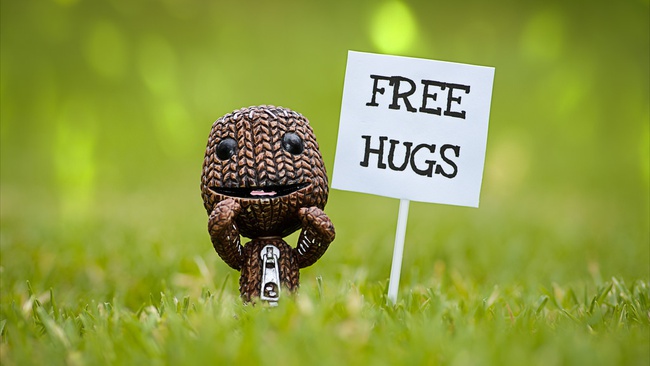 short description
It seems to me too easy to feel hopeless these days, but nothing that a hug can't solve. Who needs a hug? On your way. Take it, it's on me!
Submission (if no video available)
It's true that we are living in unique times in the history of our planet, it's also true that with so many events happening at the same time we can get to feeling overwhelmed, especially when the sun doesn't shine around us and everything seems to go against us. It seems that we are alone in a constant struggle, but if we give ourselves the opportunity to see more of our needs, we can appreciate how lucky we are compared to other people. My #One thing for #hope is a hug. Every time I feel hopeless I go for a walk around the neighborhood. It is then when I can see that my needs aren't as drastic as those of others. If it is true that I'm frustrated with not being able to cover some of my needs (such as having a camera for this challenge), but it is also true that I don't lack anything. I know I can't fix the world with worrying and losing sleep. That's when I discover the power of a smile to a stranger, a greeting and why not a big hug to that little old lady packing my groceries in the market. When I feel fragile there is nothing more comforting than my husband's arms. Scientifically it is proven that the human being needs at least 8 hugs during the day to maintain a healthy mind and spirit. I know that maybe at the beginning you will be afraid or ashamed, when we are not used to doing this the best is to start with yourself. Look at the mirror and smile, give yourself a hug and say you love yourself. Ask your parents or siblings for a hug. Embrace a tree or the neighbor's pet if you don't have one . Be kind to yourself and others. Soon you will be able to feel that love that floods the heart and that tells you that all isn't bad. Not all are bad. When we lose hope in others, we lose it in ourselves. My #One thing for #hope for me is to hug others without anyone asking. So open your arms to life and receive this virtual hug from me. Have hope in me because I have hope in you and I know that together we can have a better world if we just embrace the power of a smile. Get involved on other people's needs and believe me you will realize that life is good, and that you have that power. My best wishes for you and your loved ones today and always. Peace.
Submission location
Ciudad Juárez, Estado de Chihuahua, Mexico