Could we be looking at a house of the future here? As we become more careful about our energy use, people are turning to energy-efficient appliances and lighting and heating to ease their bills and the impact on the environment. In some sunny areas that aren't plagued by too much snow, solar energy may be an excellent way to go.
So every two years, the U.S. Department of Energy holds a Solar Decathlon to encourage college teams to submit their best ideas for solar-powered houses. The first competition was held in 2002, and it takes place every two years (or thereabouts). Now teams only have a few months left to refine their designs before the next iteration in October.
The department says the decathlon "educates students and the public about the money-saving opportunities and environmental benefits presented by clean-energy products and design solutions" as well as "demonstrates to the public the comfort and affordability of homes that combine energy-efficient construction and appliances with renewable energy systems available today." And every year, the technology gets more mind-blowing.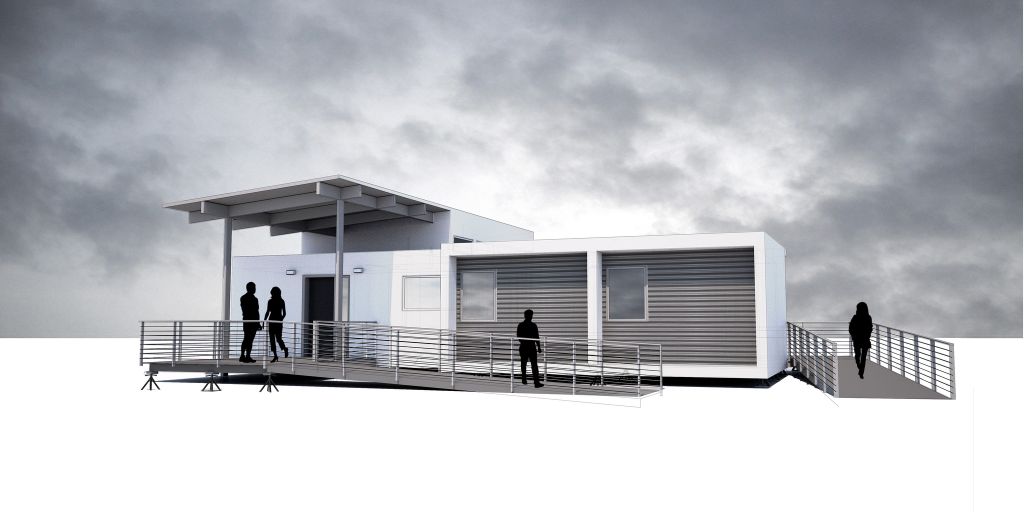 Rendering for the solar decathlon created by the University of Florida, National University of Singapore, and Santa Fe College. Credit: U.S. Department of Energy Solar Decathlon
This year, more than a dozen teams will take part in the decathlon. At random, we took a closer look at the team that includes the University of Florida, National University of Singapore, and Santa Fe College. "The team's goal is to synthesize clean lines and efficient spaces with new envelope strategies, energy-production systems, and fabrication methods. The result will be a prototype for an elegant and disciplined house," the teams wrote.
Among its benefits: it will be located in Florida (a very sunny area) and is constructed in a uniform way that still allows for some variants between different designs. And a similar approach to nature is also found in the Sacramento State house, which you can see at the top of this article.
"The gabled roof will appeal to traditional tastes, and the offset levels and slopes will allow natural daylight and an open floor plan. An expansive deck will encourage outdoor living, and numerous planters will create a closer relationship with nature," the team wrote.
Making a house solar-powered, of course, is just the first step. The next question to ask yourself is how you can make your energy use more efficient. Can you use appliances less often, or not at all (in the case of a dryer or dishwasher)? Is there a way to lessen energy demons in your house through the use of power strips, devices that automatically shut off or energy-efficient lighting?
This means that to save energy, you may not necessarily have to move houses or invest in solar panels (an expensive technology that works poorly in snowyand icy areas, for example.) It may be as simple as thinking about your behavior -- and making modifications accordingly.
You can follow updates to the Solar Decathlon on various forms of social media, including Twitter.
Top image: A rendering of a house for the solar decathlon, created by Sacramento State. Credit: U.S. Department of Energy Solar Decathlon