We are excited to announce that 65 teams from 64 collegiate institutions are participating in the Solar District Cup Class of 2021-2022! This is the largest cohort of teams and schools the program has had since it began in 2019. The class of competitors includes students and faculty advisors from across the country.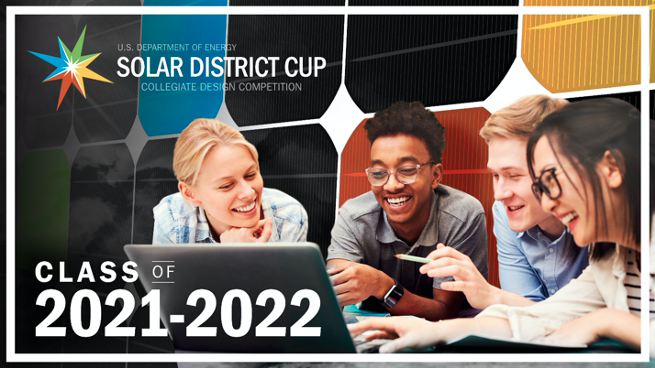 "As we work to achieve aggressive climate goals over the next few years, the need for creative energy solutions and a dedicated, passionate workforce is greater than ever," said Garrett Nilsen, acting director of the U.S. Department of Energy's Solar Energy Technologies Office. "The work these students are doing through the Solar District Cup is so valuable in preparing them for careers in the energy industry and beyond. I'm excited to see the designs that come out of this cohort of participants."
Please join us in welcoming the following collegiate institutions as participants in the Solar District Cup Class of 2021-2022:
Alfred University
Ana G. Méndez University, Gurabo Campus
Appalachian State University
Arizona State University
Benjamin Franklin Institute of Technology
Bergen Community College
Boise State University
California State University, Los Angeles
Carnegie Mellon University
Clark Atlanta University
Columbia University
Cornell University
Creighton University
Drexel University
Embry-Riddle Aeronautical University
Georgia Institute of Technology
Grambling State University
Illinois State University
Miami University
Michigan State University
Morehouse College
NC State University
New York University
Northeast Lakeview College
Norwich University
Nueta Hidatsa Sahnish College
Ohio Northern University
Oregon State University-Cascades
Pittsburg State University
Rose-Hulman Institute of Technology
San Antonio College
San Jacinto College South
Santa Clara University
Southern Illinois University Carbondale
Spelman College
Stevens Institute of Technology
Stony Brook University
Tennessee State University
Texas A&M University
Texas Southern University
Texas Tech University
The George Washington University
The Ohio State University
The University of Alabama
The University of Arizona
The University of Memphis
The University of Minnesota Duluth
The University of Minnesota Twin Cities
The University of Texas at Austin
The University of Texas at San Antonio
Triton College
Tuskegee University
University at Buffalo, The State University of New York
University of Colorado Boulder
University of Denver
University of Maryland
University of Massachusetts, Lowell
University of Notre Dame
University of Pennsylvania
University of Portland
University of Puerto Rico, Mayagüez Campus
University of South Florida
University of Wisconsin-Madison
Vanderbilt University
Read the full announcement here for more details on the Class of 2021-2022.
Additionally, we are pleased to announce the three district use cases for the 2021-2022 program. Students will design and model optimized distributed energy systems for one of the following district use cases:
Cheyney University of Pennsylvania
Pacific Northwest National Laboratory
The Ohio State University.
We are thrilled to have so many teams competing from a wide variety of schools and disciplines in the Class of 2021-2022.
Stay tuned to find out which teams advance as finalists in December!
---