Thank you to all those who were able to join Dr. Raymer yesterday to listen to his Master Lecture on Aircraft Conceptual Design and ask questions!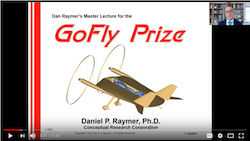 We know that not everyone could join us yesterday, so we are happy to let you know that a recording is now available on the GoFly Youtube channel.
This is just the first of many GoFly Master Lectures, so stay tuned for more info on what's next!