You must submit a "Register" Entry on HeroX by Jan. 26 to compete in EnergyTech UP. Join a virtual event on Jan. 17 at 3 p.m. ET to learn what you need to submit, find potential teammates and connect with your regional conveners.
During the event, prize administrators from the National Renewable Energy Laboratory will give a brief overview of the competition goals and expectations, review the team registration requirements, and walk through the registration process. We'll also be joined by two people from last year's winning teams, who will share their experience and give advice on a successful submission.
Then, we'll provide an opportunity for you to spend one-on-one time with the organizations hosting the regional Explore Events in February. They'll be available to answer questions, provide feedback, and facilitate team building. Plus, connect with peers who will be competing from other schools in your region!
Register now for the final virtual event on Jan. 17 at 3 p.m. ET.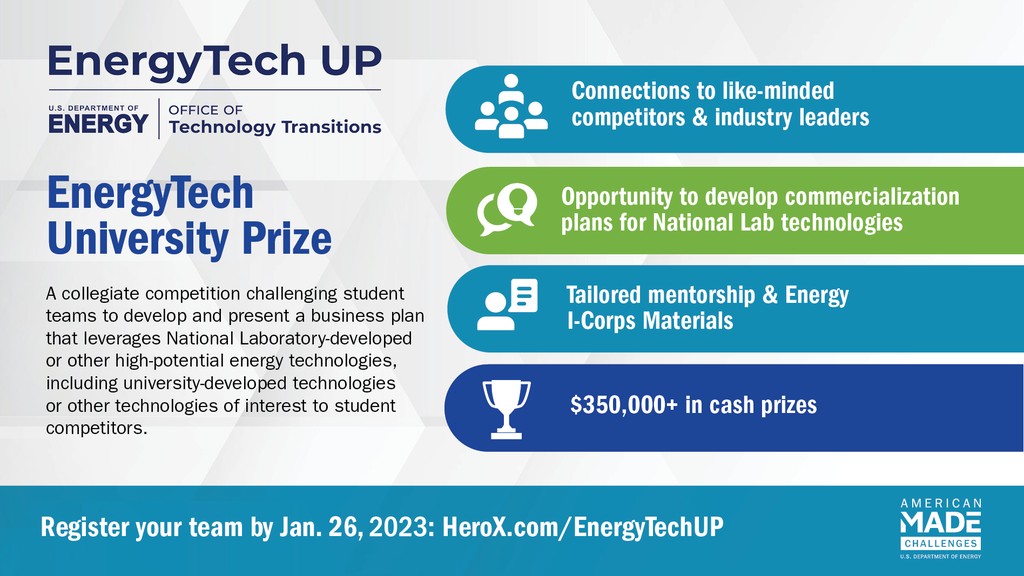 If you're planning on participating in EnergyTech UP 2023, we highly recommend joining the Jan. 17 event. This is your last chance to get questions answered live ahead of the Jan. 26 registration deadline.
Register now for the Informational, Team Building, and Networking Event and mark your calendars so you don't miss the Jan. 26 registration deadline!